Great Uses of Ideas
Here's a use from Sandip Das, of Calcutta, India, who implemented the following idea from Gabe Recchia: "Fortify a salad dressing with vitamin B12. It's one of the only vitamins you don't get by eating a salad, and it wouldn't noticeably affect the taste." Sandip writes:
Recipe:

Cucumber
Tomatoes
Onions
Lemons
Green chillies
Vitamin B12 capsules

Preparation:

Slices of cucumbers, tomatoes, onions, and lemons.
Added some salt and the powdered vitamin inside the vitamin capsules to the cucumber and smeared it well.
Then added the other slices of tomatoes, onions, and lemons to decorate the plate.

Comments: The vitamin powder does not change the taste of the salad noticeably.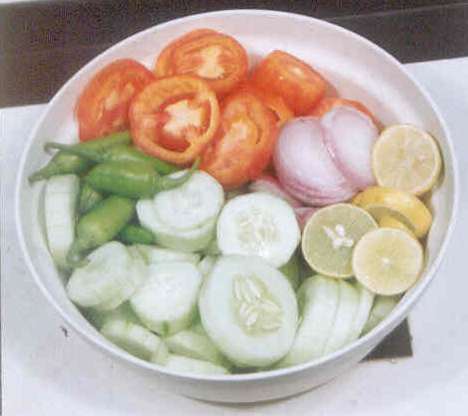 Thanks, Sandip, for tasting this healthy salad for us.
Back