Great Uses of Ideas
Here are two uses of dessert ideas from Sandip Das, of Calcutta, India, who implemented the following ideas from Soumi and Swarup Dutta for sweet dishes with fruit, milk, nuts, and cardamom:
Idea 1: "For a simple dessert, slice 20 dates, 10 gms. almonds & grind 4 cardamoms. Boil 1/2 lit. milk & add 200 gms of sugar, the dates & almonds until it thickens. Add the cardamom powder just before taking off-heat. Serve cold with raisin & cherry dressing." Sandip writes:
Preparation:
First I sliced 20 dates
Then added the sliced dates along with 200 gm of sugar and almonds into the boiling milk.
Then I boiled the milk for about 30 minutes.
By this time the milk thickened and the colour of the milk became light brown.
Then I added the cardamom powder and stirred it a little.
Then I let it cool.
After it became cold enough--it can also be cooled in the refrigerator--I added the cherries and the raisins. This can be a preparation for four people.
Comments: It tasted good. Perhaps a little less sugar would have made it taste better.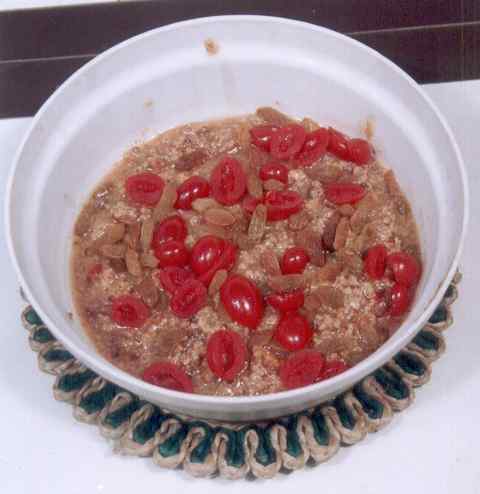 Idea 2: "Stir and boil a cup of milk with 4 spoons of sugar, 2 cardamoms, & 6 crushed cashew-nuts until it's thick. Then cool it. Slice apples & oranges. Sprinkle on a pinch of rock salt. Pour the milk over the fruits just before serving. Dress with mint leaves."

Ingredients:

Milk
Sugar - 4 spoons
2 cardamoms
6 cashewnuts
One apple
One orange

Preparations:

Grind the cashews and cardamoms together.
Add the cashew and cardamom powder to the boiling milk.
Let the mixture thicken a little. Then cool it.
Sprinkle the sugar onto the sliced and peeled orange and apple.
Pour the cooled, thickened milk onto the fruit.

Comments: The quantity of the milk solution should be more than one cup and in proportion to the volume of the apple and orange.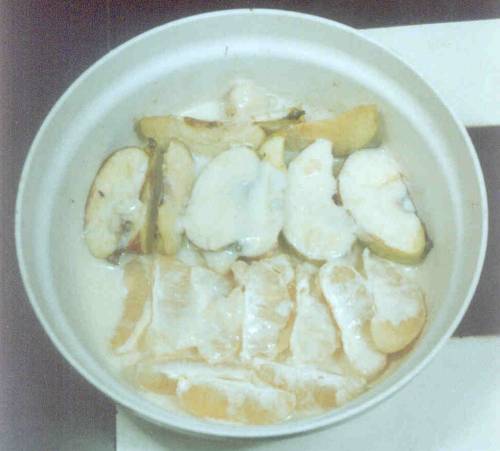 Thanks, Sandip, for showing us the sweet fruits of ideas.
Back